INFORMATION ABOUT COVID-19 HEALTH PROTOCOLS FOR SEASON 2020.
UPDATED 12/06/2020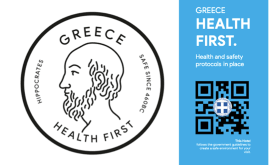 CERTIFICATION
We have be certified with the "HEALTH FIRST" from the Ministry of Tourism. 
TRAINING
Each one of us on our family business has been informed of the health and management protocols for COVID-19. We have been trained on the following:
The ways of which the virus is transmitted.
Behavior and actions needed to be taken in case of illness by the staff.
Methods and practices of cleaning and disinfecting frequently touched surfaces leading to the possibility of transmitting the disease.
Communication approaches to visitors/customers.
Maintaining the basic protocols to avoid transmitting the virus by thorough and regular hand washing, avoiding handshakes, keeping distances, avoiding contact of hands on the eyes, nose and mouth, and covering coughs and sneezes appropriately.
ACTION PLAN
We have drawn up an Action plan for suspected cases.
Specifically, for the handling of a suspected case following the plan for dealing with a suspected case from National Organization for Public Health.
To ensure the implementation of the accommodation's suspected case handling plan is followed.
The accommodations are obligated to share contact details to the according services of the Ministry of Health (National Organization for Public Health):
The owner of Dafni Studios in charge of implementing the action plan for suspected cases.
ACCOMMODATION FILE AND EVENT BOOK
For the purposes of public health protection, the accommodation must keep a record of staff members and all people staying at the Dafni Studios - name, nationality, date of arrival and departure, contact details (address, telephone, e-mail) - , so that it is possible to communicate with these people in the case of any COVID-19 incident.
GUEST ARRIVAL

GUEST ROOMS
Deep cleaning of guest rooms prior check in. Cleaning and disinfection program (according to the current instructions of National Organization for Public Health).
Meticulous cleaning and good room ventilation during the time duration between stays.
Guest room disinfection.
Meticulous cleaning - disinfection with steam cleaner of the entire room and bathroom before arrival.
Non-regular room cleaning during the stay (to avoid unnecessary contact of cleaning staff with possible case and further transmission).
Elimination of daily cleaning and change of linen and towels will be each 3 days at the request of the customer.
Opening doors and windows for natural ventilation of the space daily required from our guests.
We place individual antiseptic liquids in each apartment.
Special instructions for cleaning in case of a confirmed case (according to the current instructions of National Organization for Public Health).
Prohibition of entry in the apartments for non-residents.
AIR CONDITIONING
A/C cleaning and disinfection upon every room change.
The use of air conditioning is not allowed when guests are absent from the apartment or studio.
A/C use is recommended for use only if the outside temperature is more than 39 degrees.
The recommended operating temperature of the air conditioner is 26 degrees Celsius and to no less than 23 degrees. 
When the air conditioner is turned on, there must be an open window, for recirculation of air and natural ventilation.
BBQ AND PUBLIC TABLES
BBQ will not be available for this season. Public Tables will be work upon request and reservation, without charge, for peoples living in the same apartment or studio.
PLAYGROUND
Playground will not be available for this season.